Facilities and Items Included with Your Event at Burlington
---
Venue:

Exclusive use of Burlington Plantation's property from 11 AM to 11 PM on Saturdays and Sundays and 6 to 11 PM on Fridays. Outdoor ceremony sites include the Sunken Garden or Carriage Loop, and indoor reception sites include the Carriage House and The Stables.

Bride's Cottage:

Available beginning at 11 AM day of event. Ample space for the Bride and her wedding party to relax and prepare for the event, featuring three full baths, full kitchen, and comfortable beauty parlor for hair and makeup.

Groom's Den:

Cozy loft apartment available two hours prior to ceremony or reception time. A stress-free space for the Groom and his wedding party to prepare for the event with one full bath, full kitchen, and plenty of comfortable space to kick back and relax.

Ice House:

Unique bar space available two hours prior to ceremony, during cocktail hour, and reception. A fun location for pre-ceremony meeting of wedding parties or families and guests to gather.

Outdoor Seating:

Setup and use of up to 300 white padded resin folding garden chairs for outdoor ceremonies.

Indoor Seating:

Setup and use of up to 300 mahogany Chiavari chairs with ivory cushions for indoor receptions.

Tables:

20, 5′ and 10, 6′ round banquet, 10, high top cocktail, 1, round sweetheart, and 10, 8′ rectangle (40″ wide) styles provided.

Custom Satellite Bars:

Three custom-built, vintage mobile bars.
Services Provided by Burlington
---
Rehearsals : Access to Burlington Plantation Friday afternoon before your event at 2PM or 4 PM for a one-hour scheduled ceremony rehearsal.
Venue Representative: Burlington Plantation's knowledgeable and accommodating staff will be on site at 10 AM day of event to manage the operations of Burlington as well to greet guests and vendors.
Table and chair set up/take down for ceremony and/or reception.
Two parking attendants.
PRICING
---
Venue Pricing:
---
Sunday – Friday: $8,500
Saturday: $8,500
Full Weekend: $15,000
(Additional Services May Be Added)
---
All fees include state and local tax of 5.3%
OVERNIGHT ACCOMMODATIONS
Guests have the option to stay over in one of our comfortably appointed rooms on the property before or after their event.
Bride's Cottage
Sleeps up to eight adults; three full bathrooms. $1000.00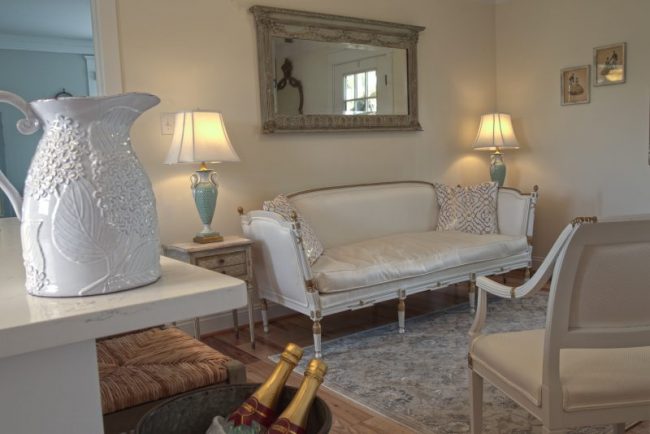 Main House
Sleeps up to four adults; one full bathroom. $750
NOTE: Main House at Burlington will NOT be open before/during an event unless guests have expressly asked or have rented it for an overnight stay.